Sound That Makes You Look Good
Call Larry Kaltenbach (551) 804-9790
Some people, places and gear from 5,000-plus days working as a location sound technician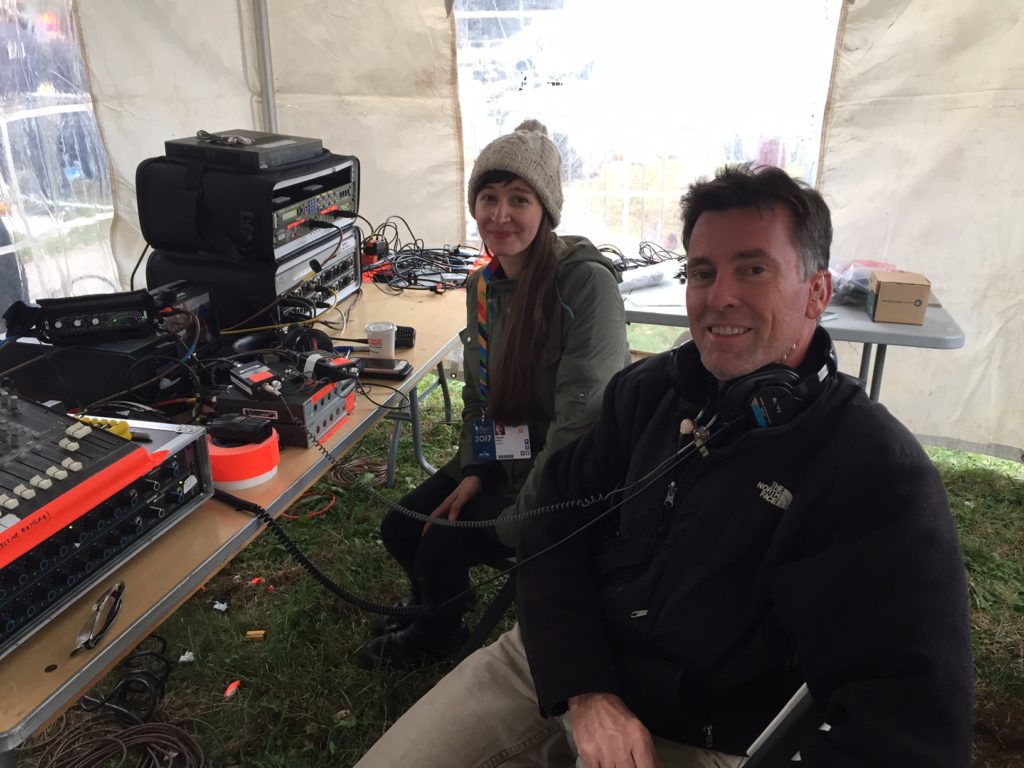 Mixing the 2017 NYC Marathon show for New York's WABC-TV 7, along with Margo Knipe doing Comms and IFB
An overhead view of our NYC Marathon show gear. That's an old Mackie mixer – application-appropriate. My criteria for gear selection: easy-to-operate without a manual, sturdy, stable, weather tolerant, low/no noise, portable and talent-friendly.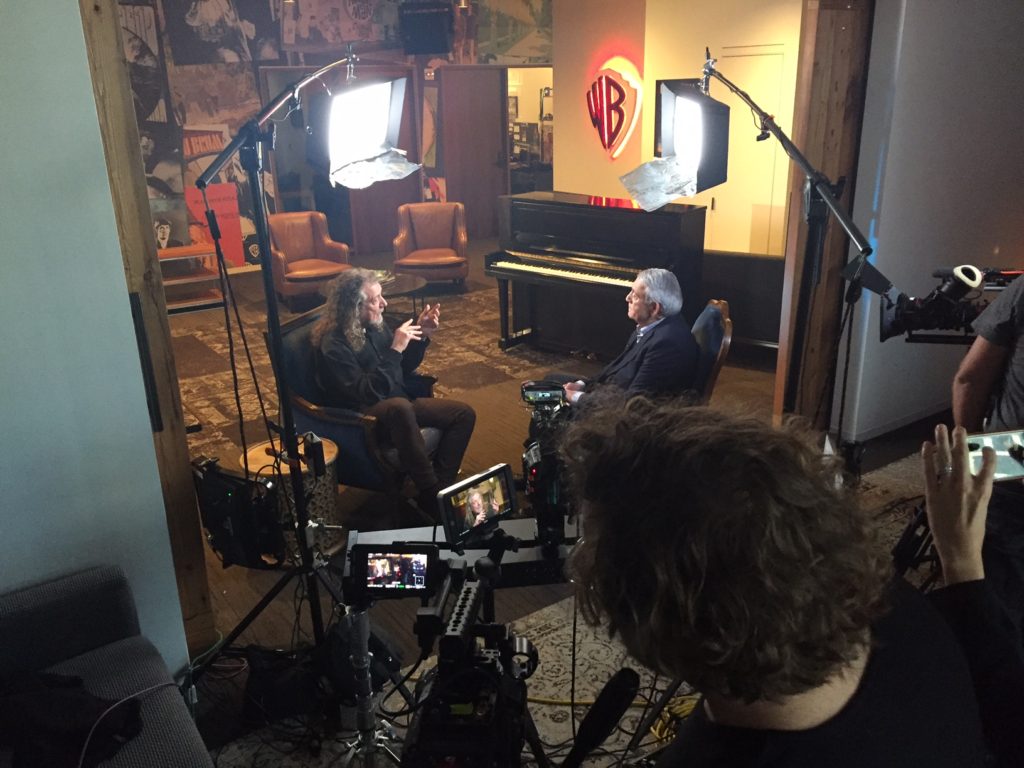 Robert Plant on AXIS's The Big Interview with Dan Rather, airing March 2018
On set as part of the sound crew for Comedy Central's Strangers With Candy, circa 1999. I mixed 9 episodes as Production Sound Mixer.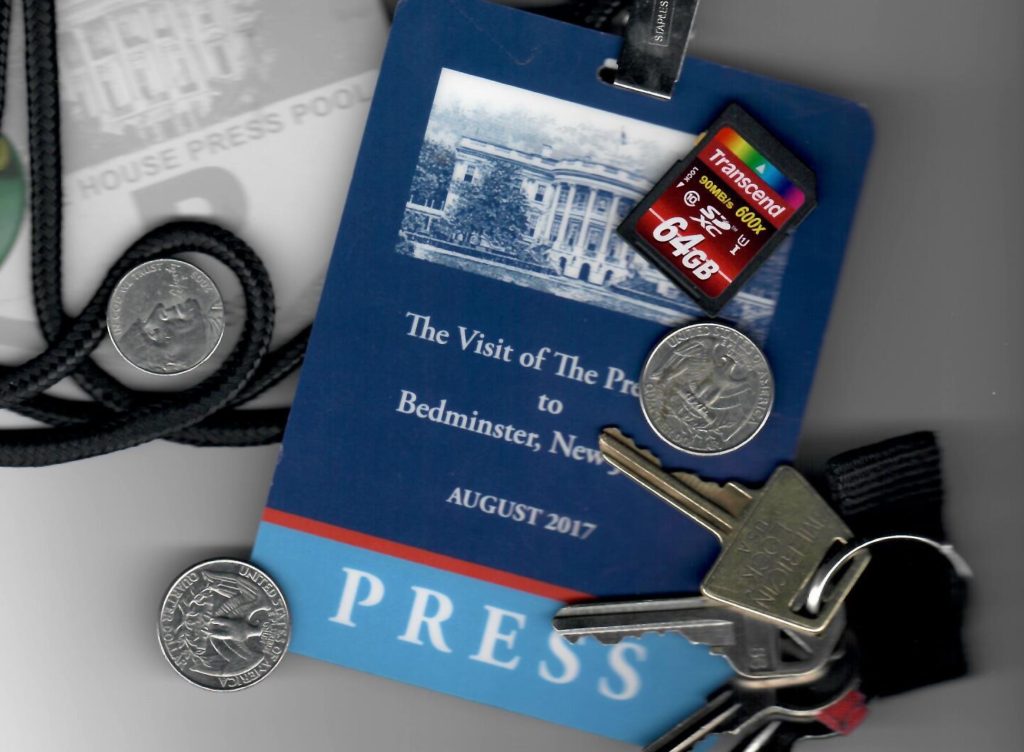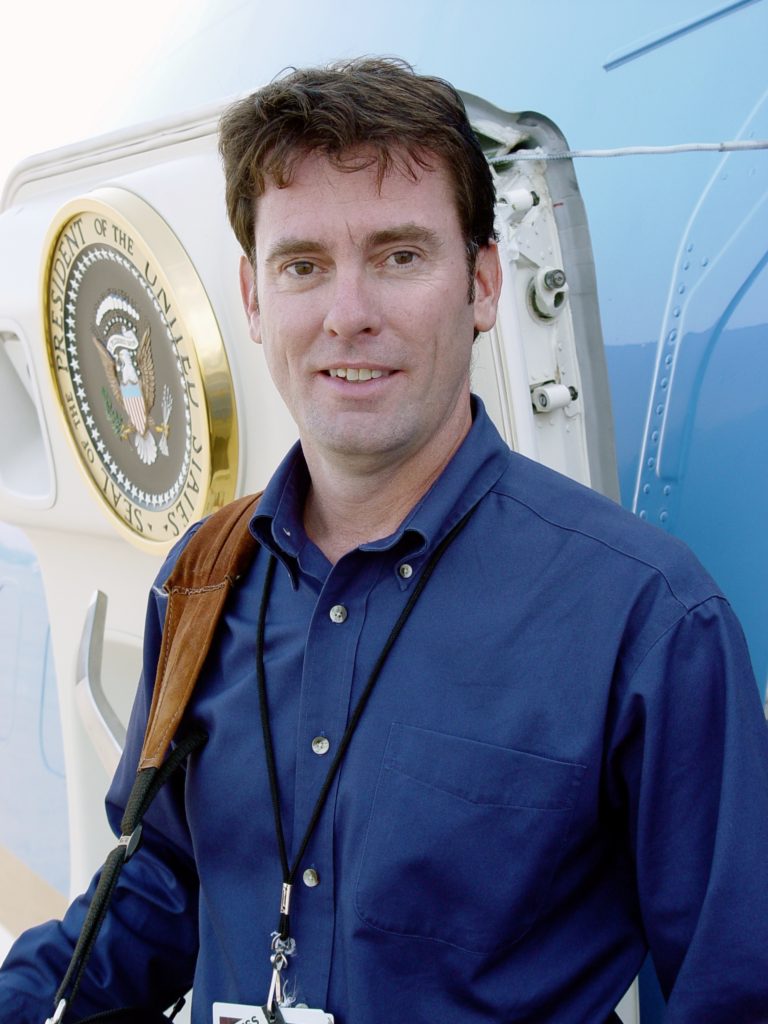 At the door of Air Force One, to record a 2006 in-flight interview with then President George W. Bush and World News anchor Charlie Gibson. I guess I've got a clean record since they let me on the plane. Bad hair day.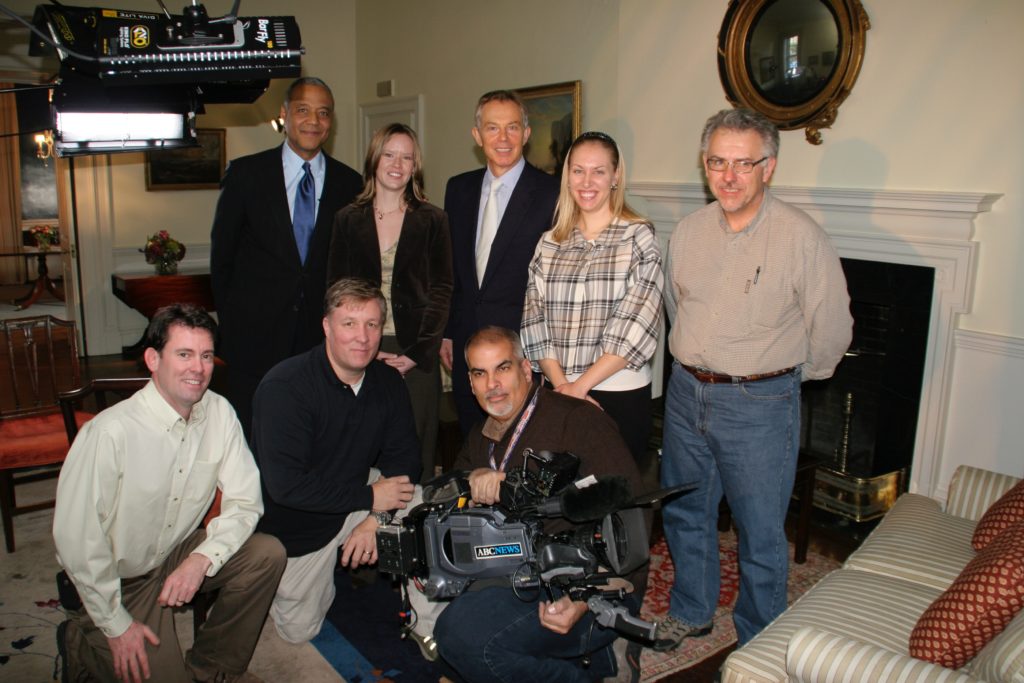 Among the ABC News crew on a shoot with former UK Prime Minister Tony Blair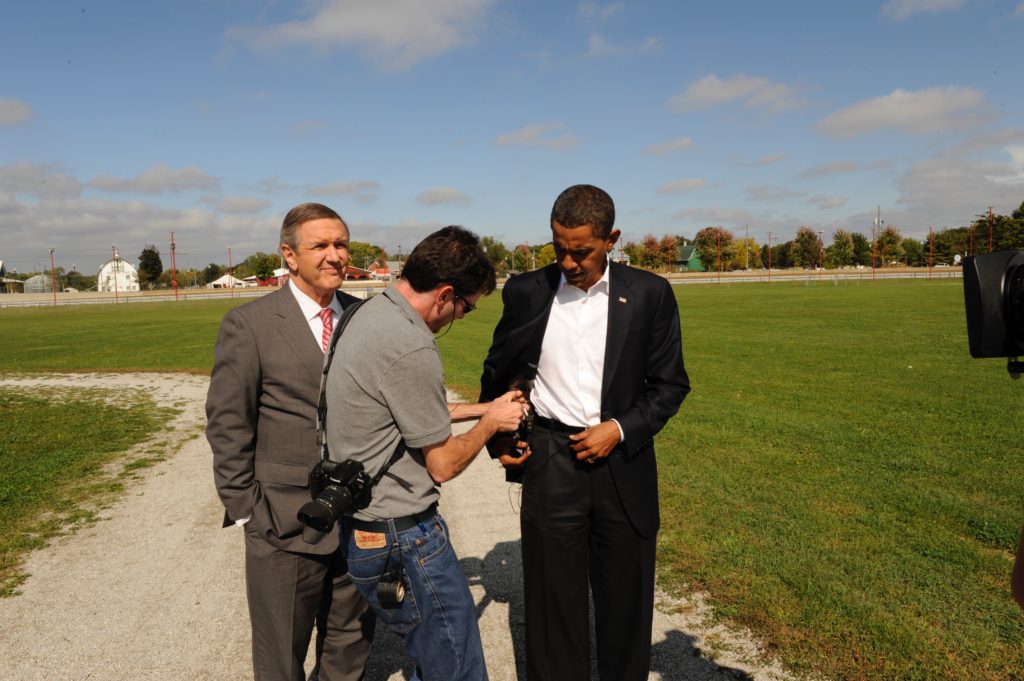 Mic'ing up then Senator Barack Obama on the campaign trail with ABC News' Charles Gibson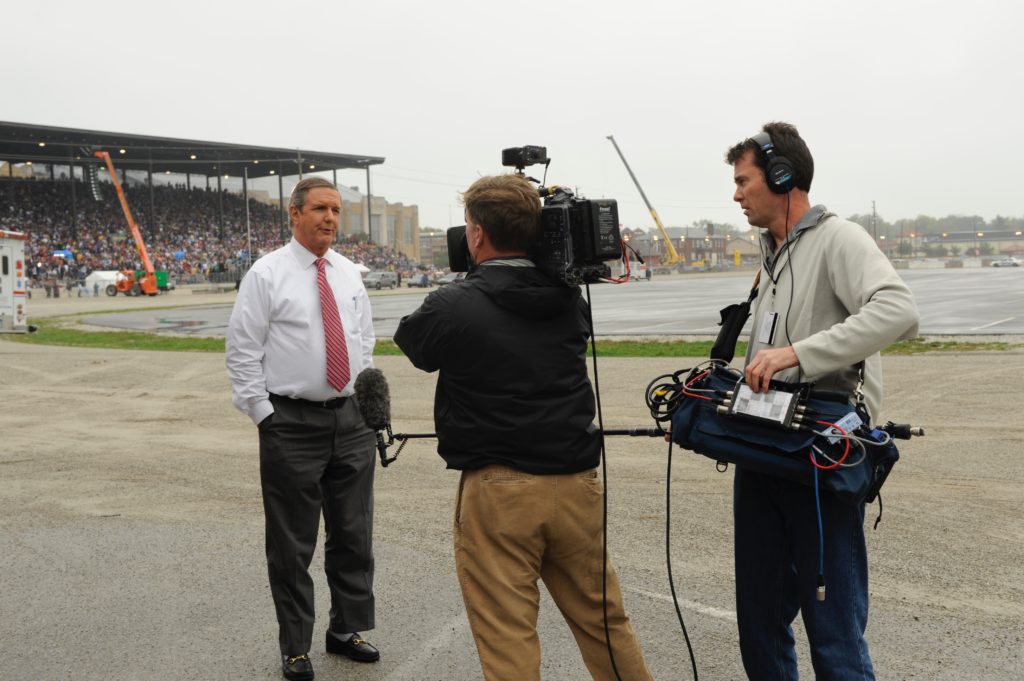 An impromptu show open by Charlie Gibson for ABC's World News, with cameraman Tommy Krakowiak – two pros I've been lucky to work with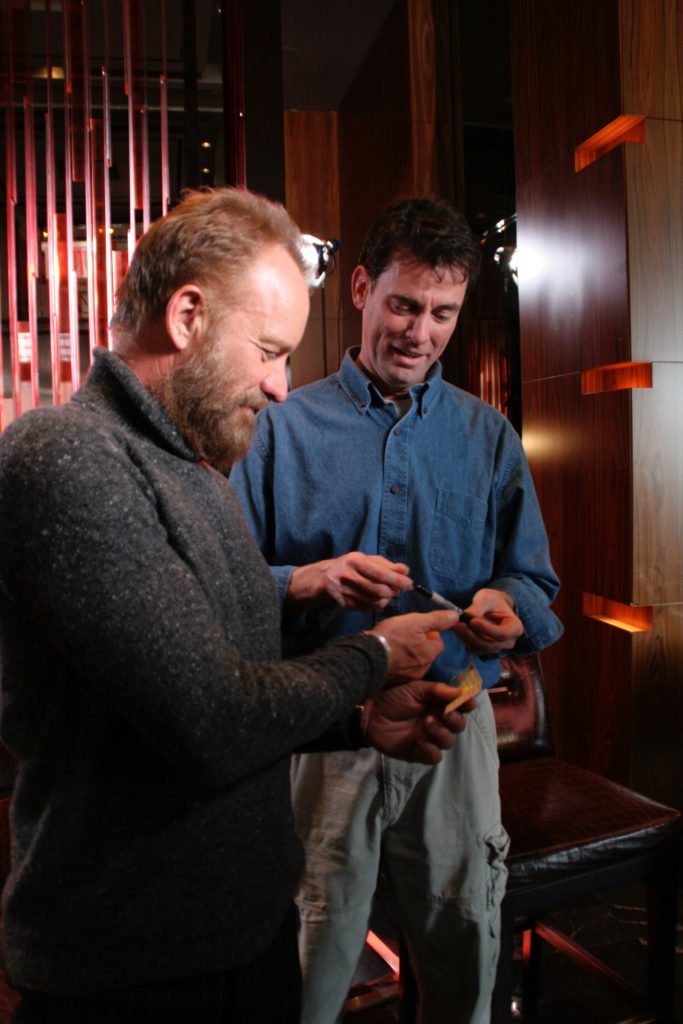 On a shoot with Sting autographing one of my Police concert tickets from a Shea Stadium concert, when tickets could be had for $17.50!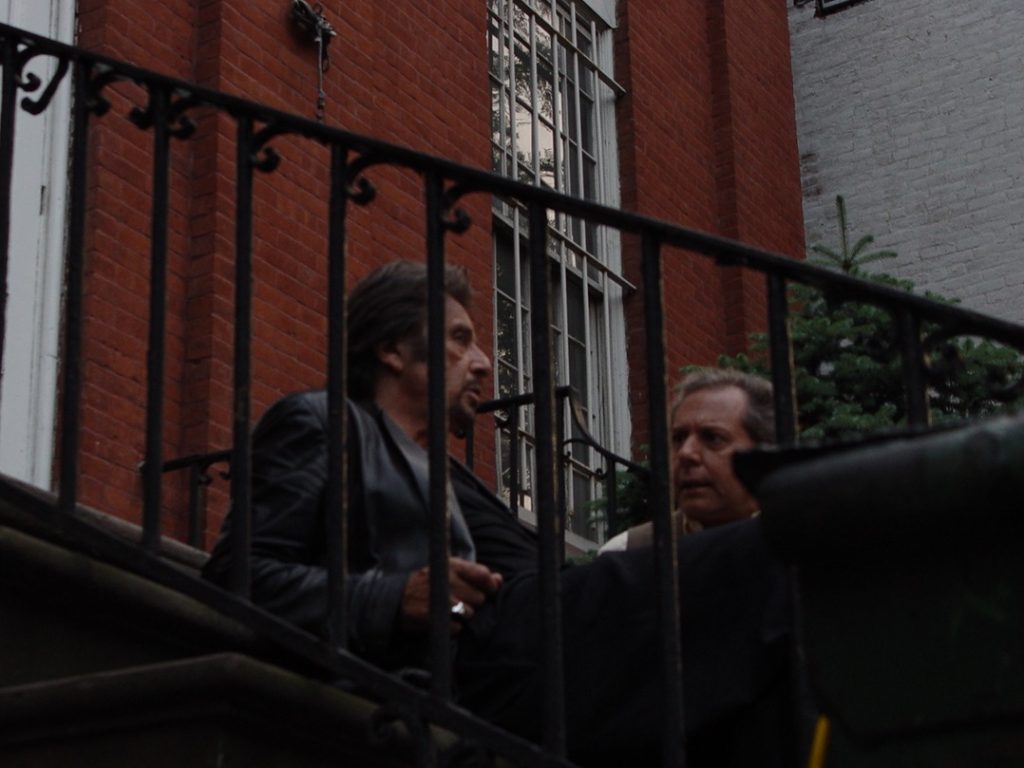 Al Pacino with Richard Brown on the stairs of The Actor's Studio in NYC for the Al Pacino-produced documentary Babbleonia, part of the DVD set Pacino: An Actor's Vision. Al can really talk – dusk on these stairs wasn't about to stop him.
On the set of Tower of Silence, shot in 2016 and completed 2018. Zaxcom ERX TCD1 receiver mounted on RED camera for timecode and scratch track – and, no, the film wasn't MOS 😉
Scoping out potential wireless mic RF interference from Empire State Building and Conde Nast buildingTV transmitters
Shure SCM810 automixers, above Mackie console, installed by me at a Big Pharma facility. I use these for mix assist and feedback control in PA system applications.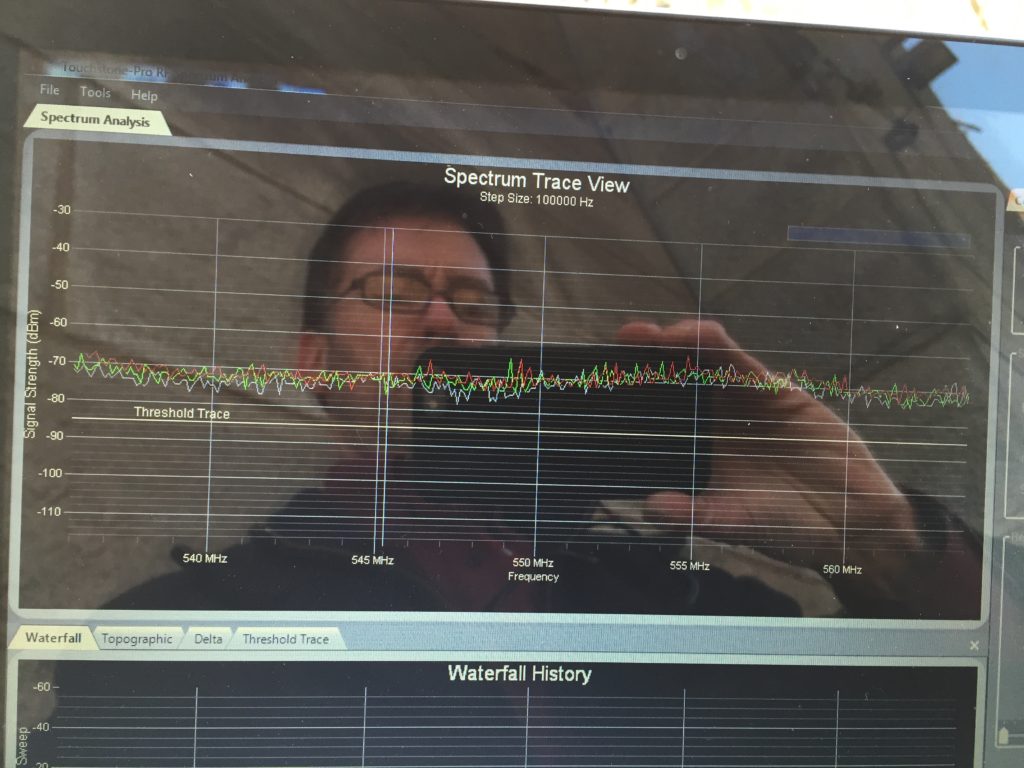 Geeking out on the Brooklyn Bridge scoping out the wireless mic RF spectrum around NYC
2017 shoot for Swarthmore College's Building A Beloved Community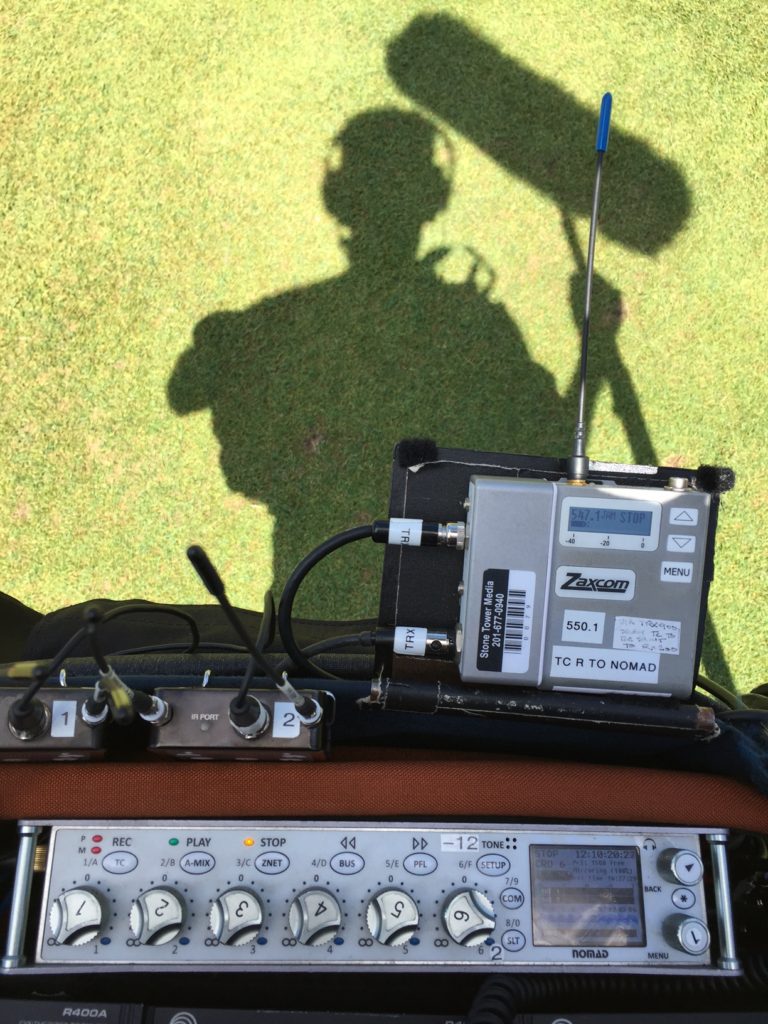 The Shadow Knows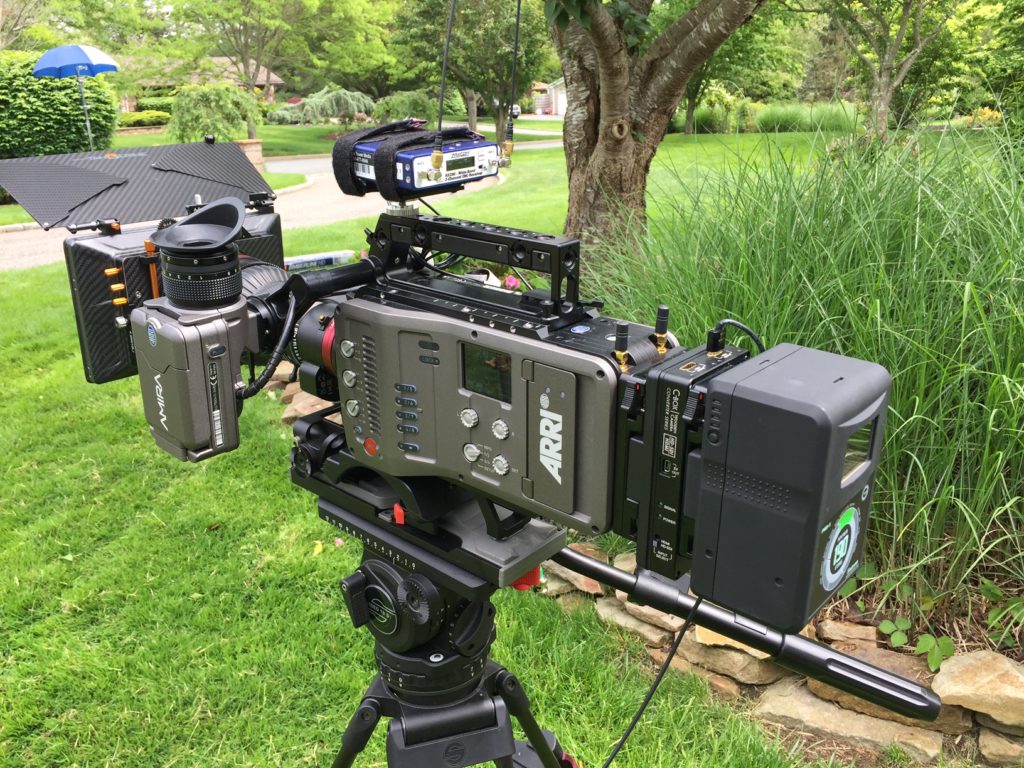 One of my two Zaxcom RX200 camera link receivers mounted atop an ARRI Amira for 2017 GAF commercial Not Under My Roof.  This self-powered unit supplies timecode to cameras as well, locked to the timecode of my Zaxcom Nomad recorder. One of my favorite production tools!
In-house mixing desk I work with at a NYC-based life insurance company
My modular corporate meeting package on wheels – wireless mics, automixers, distribution and no-surprises analog Mackie mixing console. This and more fits in the Suburban, ready for deployment anywhere, in any weather, with no commercial-vehicle travel restrictions.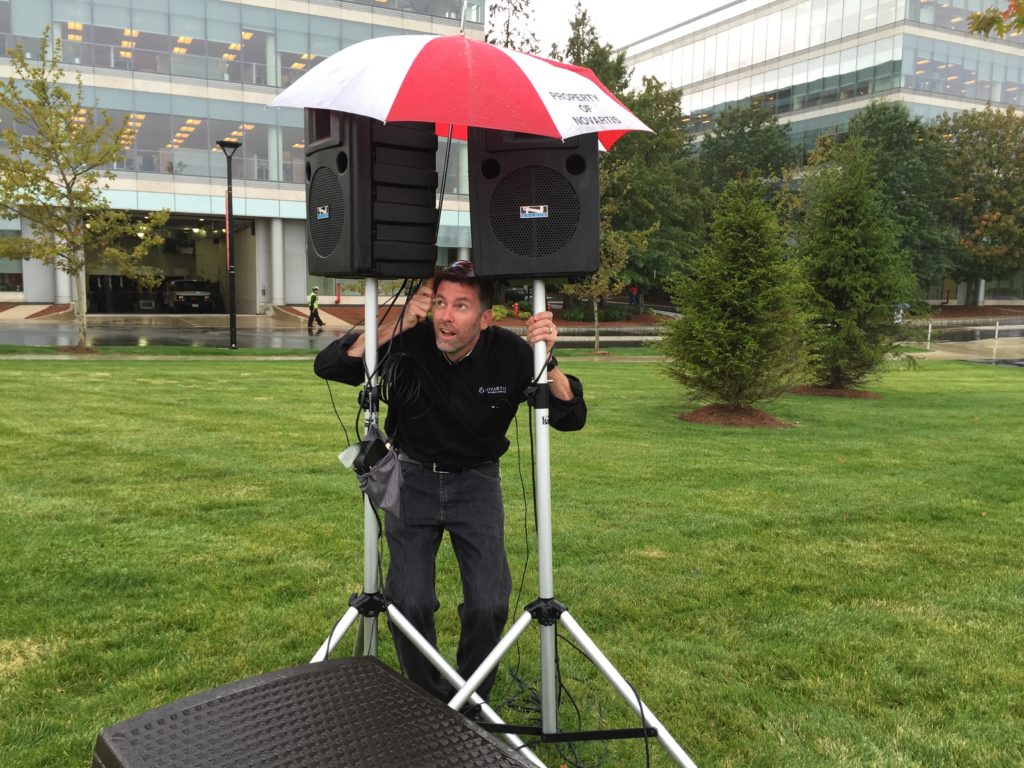 Speaking of any weather…
PA system sound for a corporate team-building event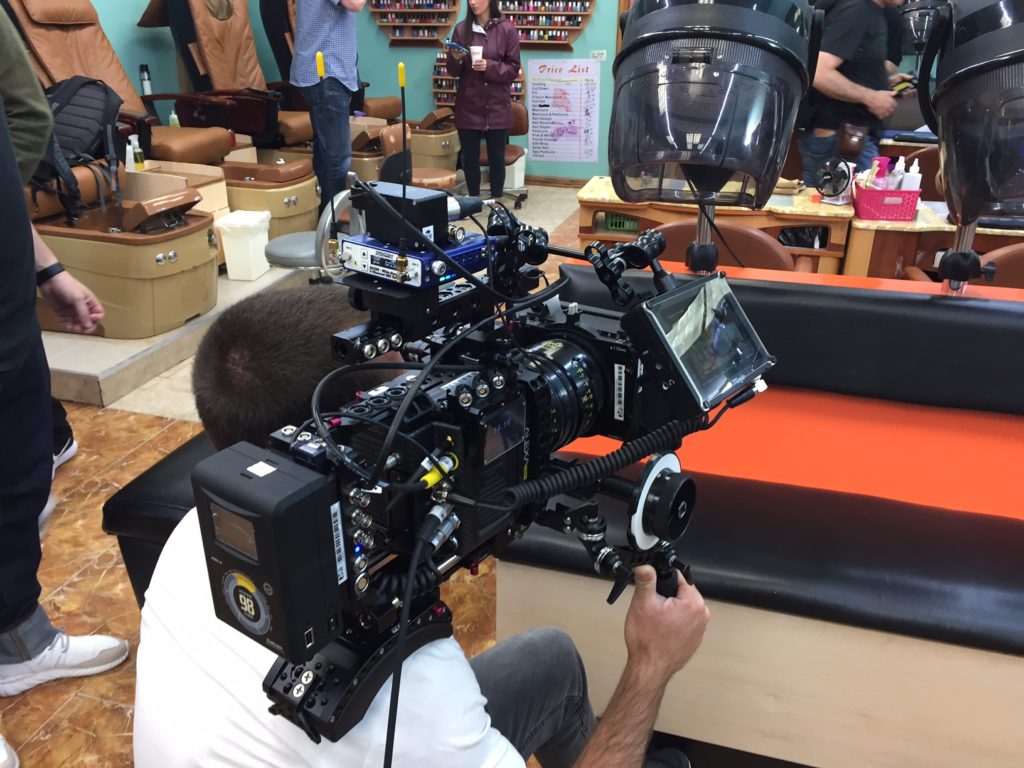 The Zaxcom RX200, again, mounted atop ARRI Alexa for Alice spot, featuring Christiano Ronaldo, for Optimum cable service, 2017
A late-night NYC wrap from yet another project, cart loaded and rolling out…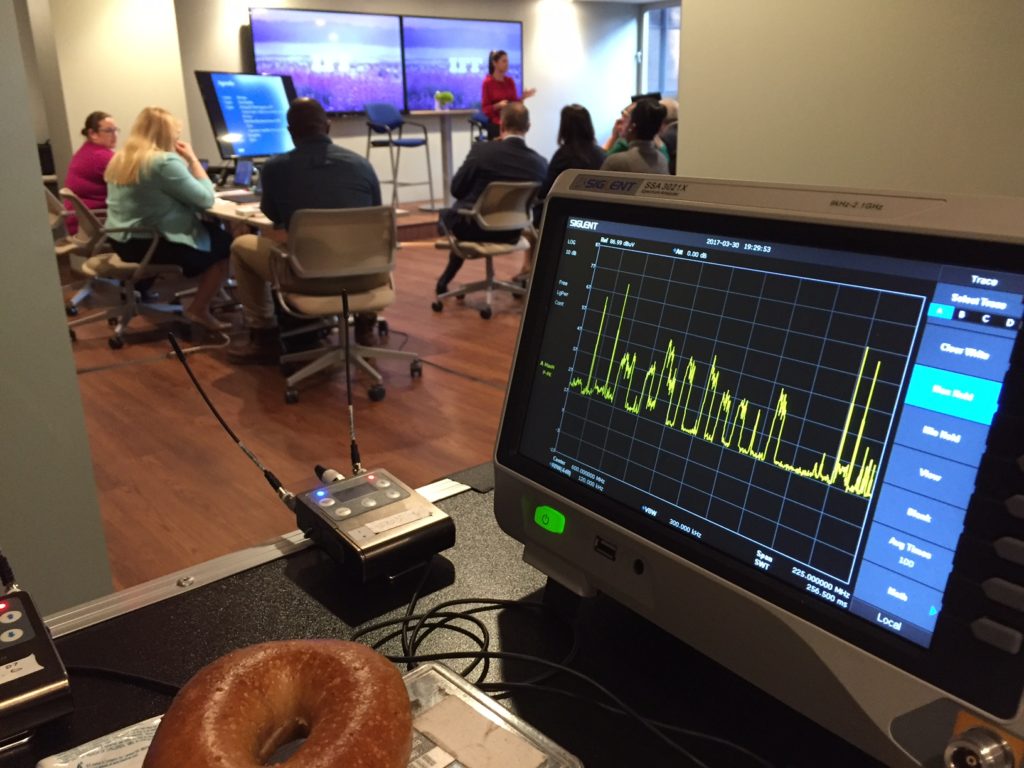 Working for an IFF webcast in NYC, 2017, keeping an eye on wireless mic RF spectrum before and during webcast, breakfast at the ready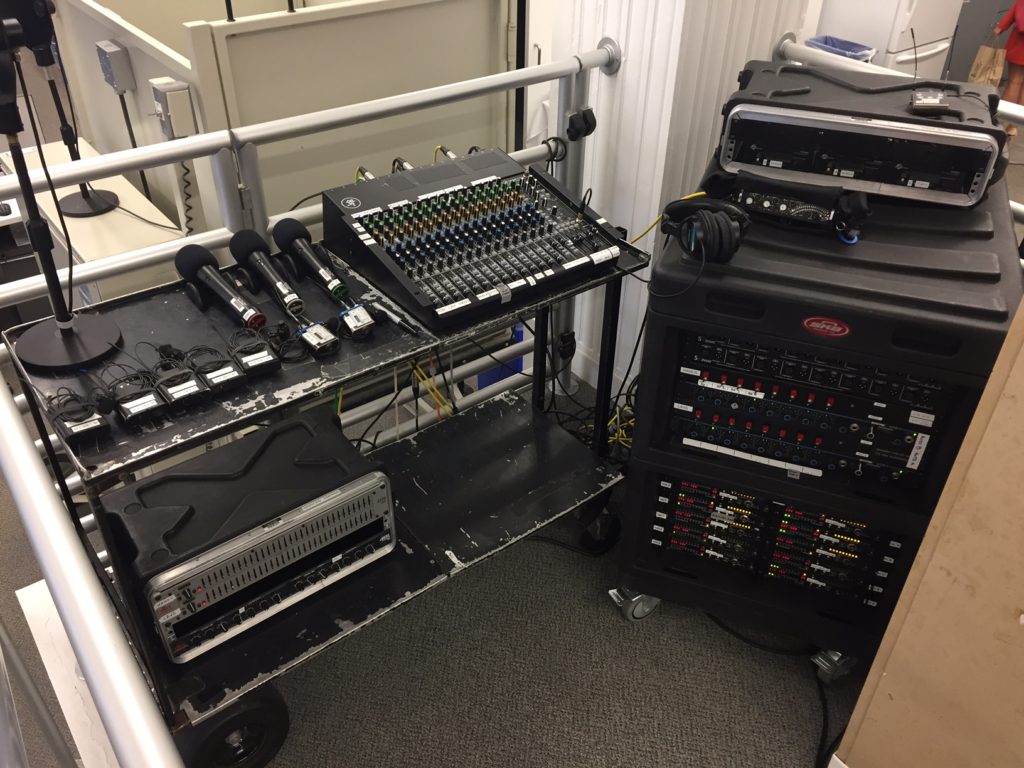 My equipment stack for a 2017 CBS webcast at their 57th Street NYC Broadcast Center, with 7 lavs and 3 hand mics – definitely a "check with the CBS News folks" matter, to make sure I didn't knock them off the air nor they I
This is how it all started for me, with my black and white, 1/2″ open-reel video recorder!
Working a John Stossel Special for FOX, in a junkyard somewhere in NYC's 5 boroughs, circa, uh, about 2008
Giving my back a rest in 2016 on a NYC Sanitation trash can, while working on an educational program for German television
And once again, the RX200, this time on a Canon C300 – there's always some way to mount this thing!
Why am I such a fan of the RX200? Because the Silver Beast above, a Zaxcom QRX900, atop an ARRI Alexa, was how I used to get great stereo sound wirelessly to cameras. Ugh. This was a shoot for part of ESPN's 30 for 30 episode This Is What They Want featuring Jimmy Connors.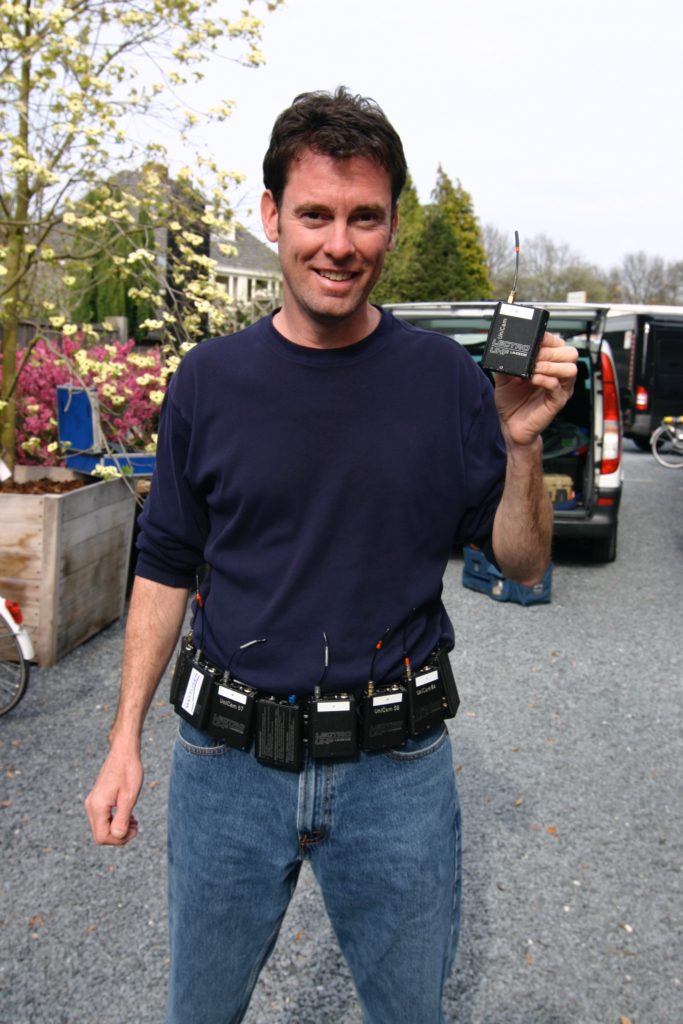 Running a couple wireless mic channels in Netherlands for the WETA / American Public Television show Cultivating Life, circa about 2006
Mixing a live 2012 broadcast for the United States Postal Service MLB All-Stars Forever stamp ceremony at the Baseball Hall of Fame in Cooperstown, NY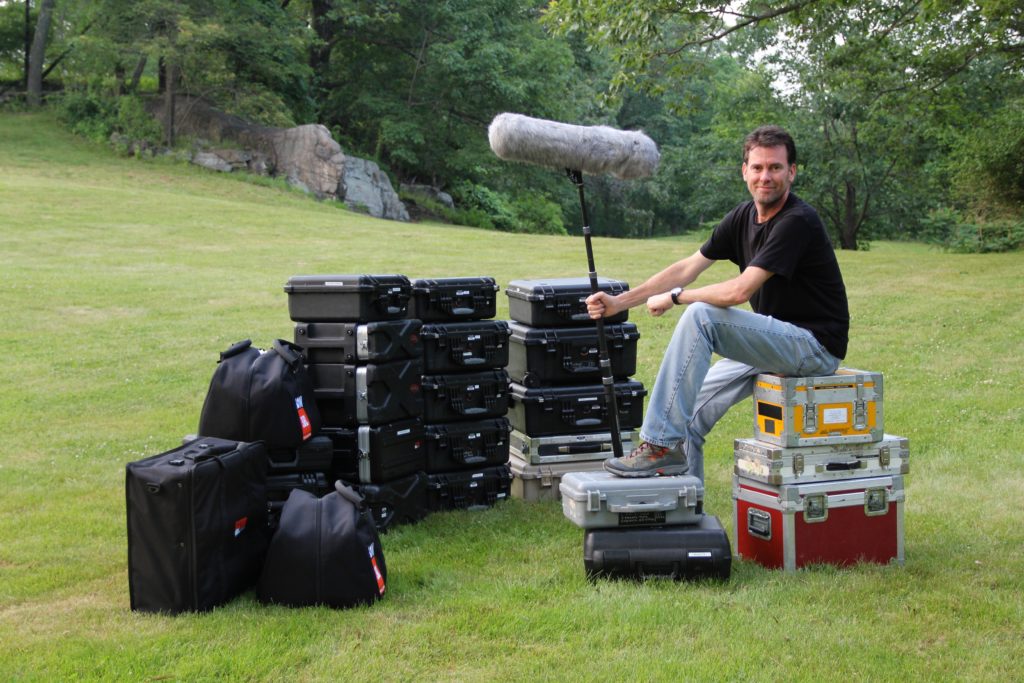 Sitting atop heaps of my gear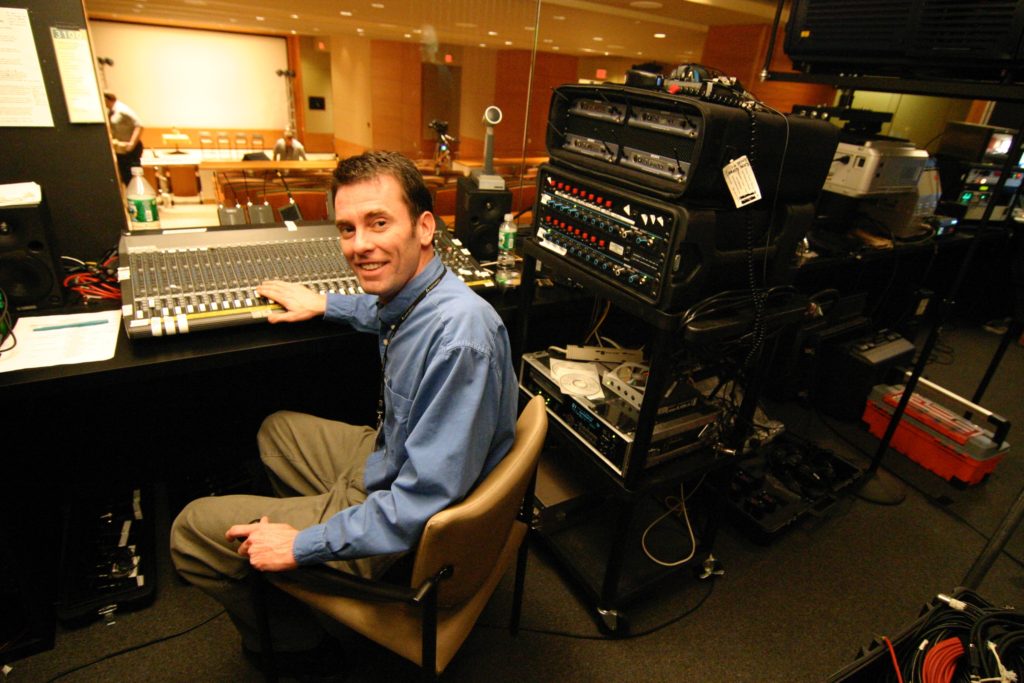 Mixing another corporate meeting
A heap of gear for a Chipotle Mexican Grill multi-camera shoot in Chicago. It doesn't have to be pretty –  it just has to work!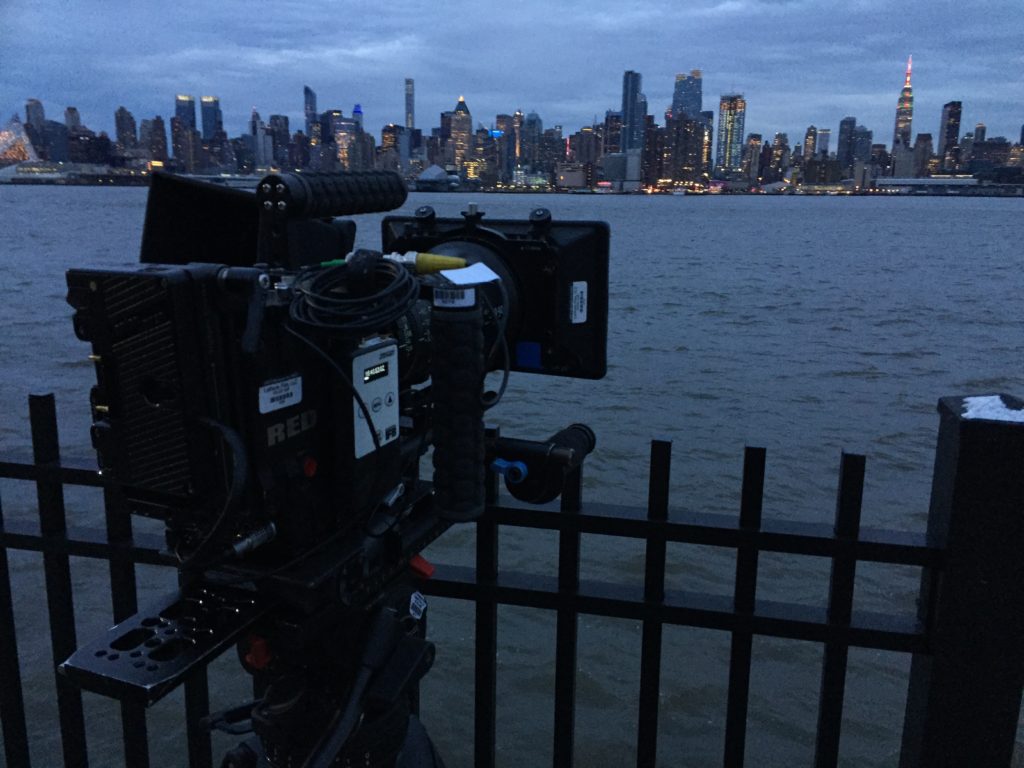 On the 2015 UFC Road To The Octagon 18 shoot featuring NJ's Jimmy Rivera, along the Hudson River in NJ looking at midtown NYC. That's a RED with one of my Zaxcom ERX TCD1 receivers on it (white box) for time code and scratch track – a specifically-required-item in UFC's workflow
Working for ABC News on the battleground states bus during the 2008 elections, looking like I'm doing something terribly important, making tape labels. Remember tape?
Bag o' gear with a Shure Shure FP410 automixer in tow. Again, it doesn't have to be pretty – it just has to work!
Outside Zaxcom World Headquarters – right near where I lived at the time!
Proud & Lucky Daddy – 2011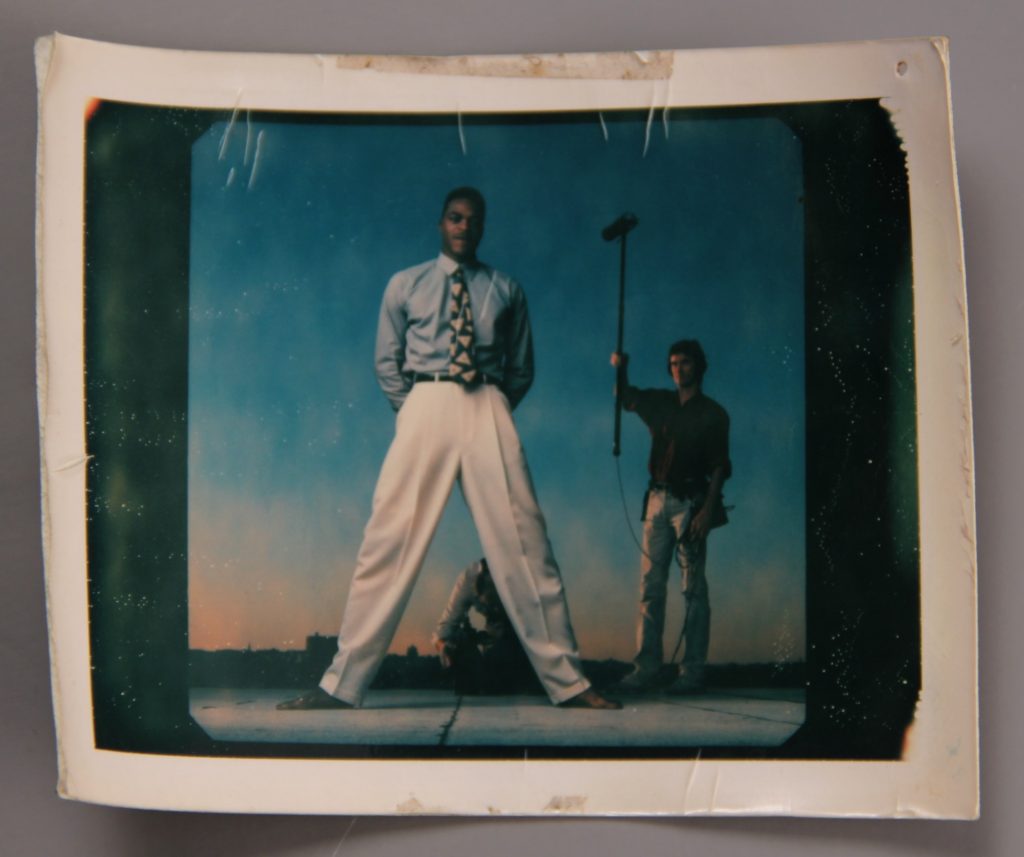 Hanging out with Gerald Wilkens on a photo shoot – a long time ago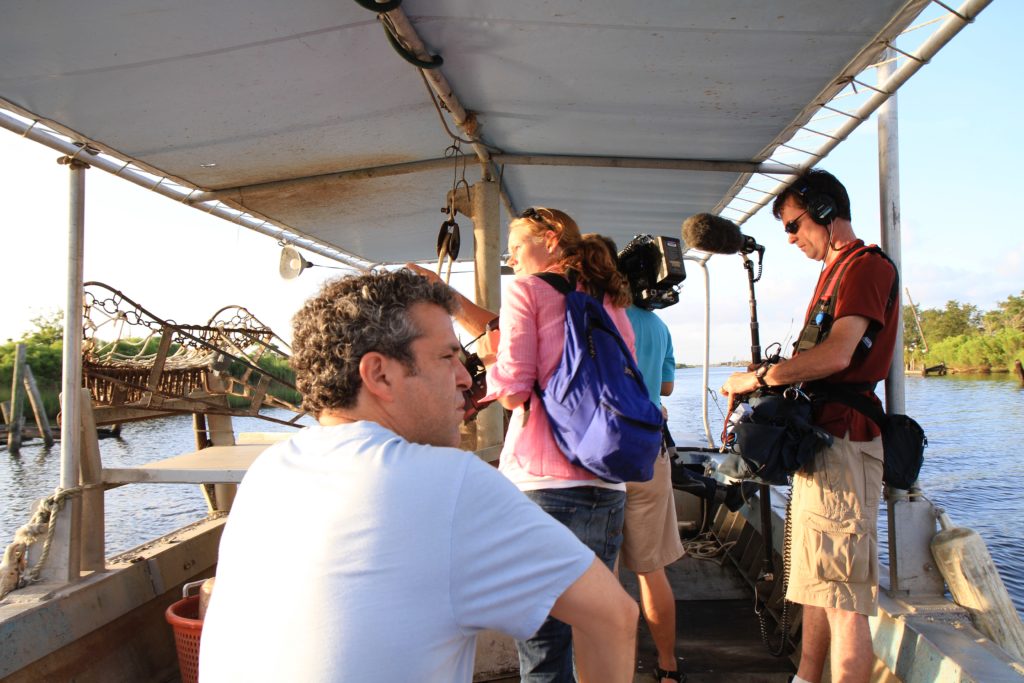 Working on Mississippi bayou after Hurricane Katrina with Diane Sawyer for ABC News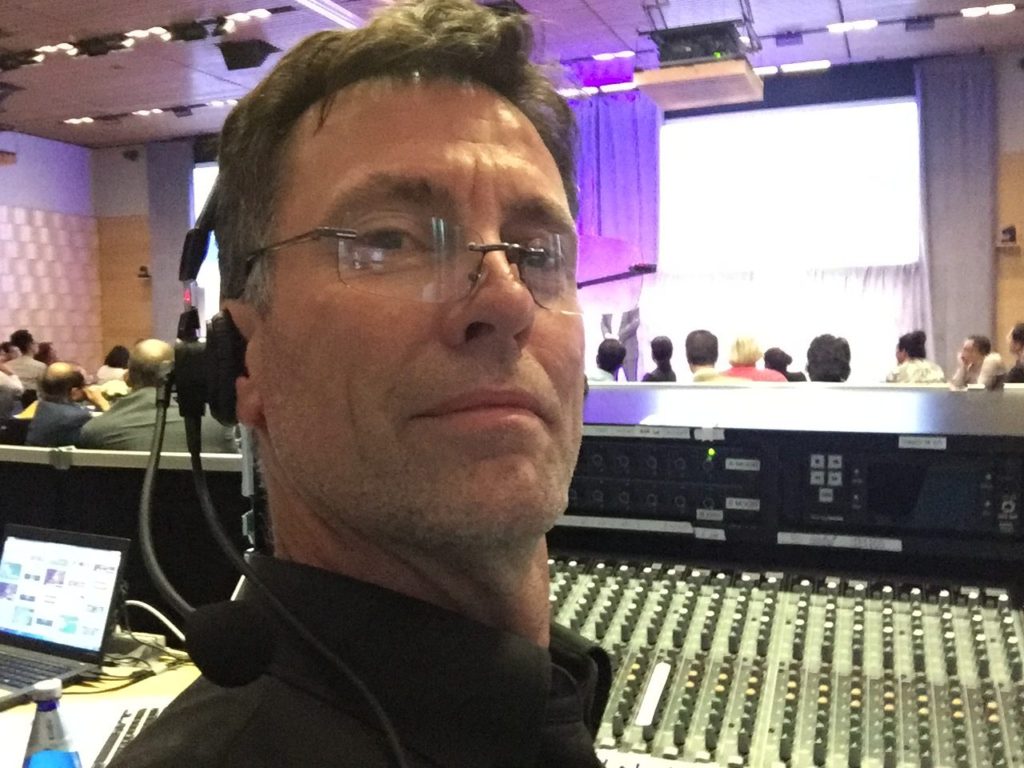 Mixing another corporate meeting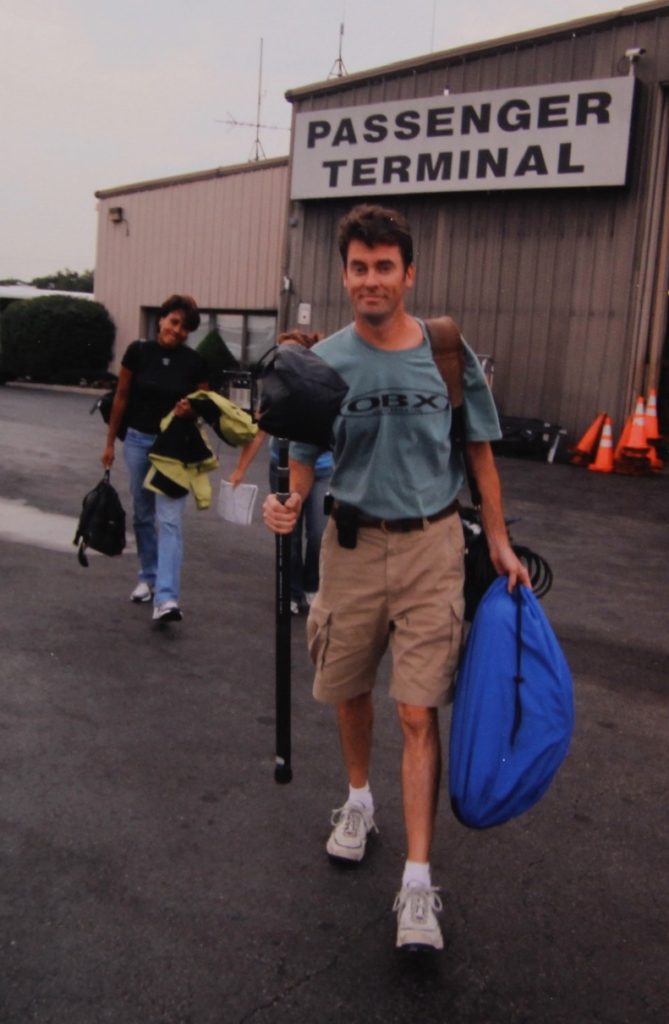 At a small airport somewhere on the way to or from the Gulf, covering Hurricane Katrina for ABC News, with Good Morning America Co-Host Robin Roberts behind me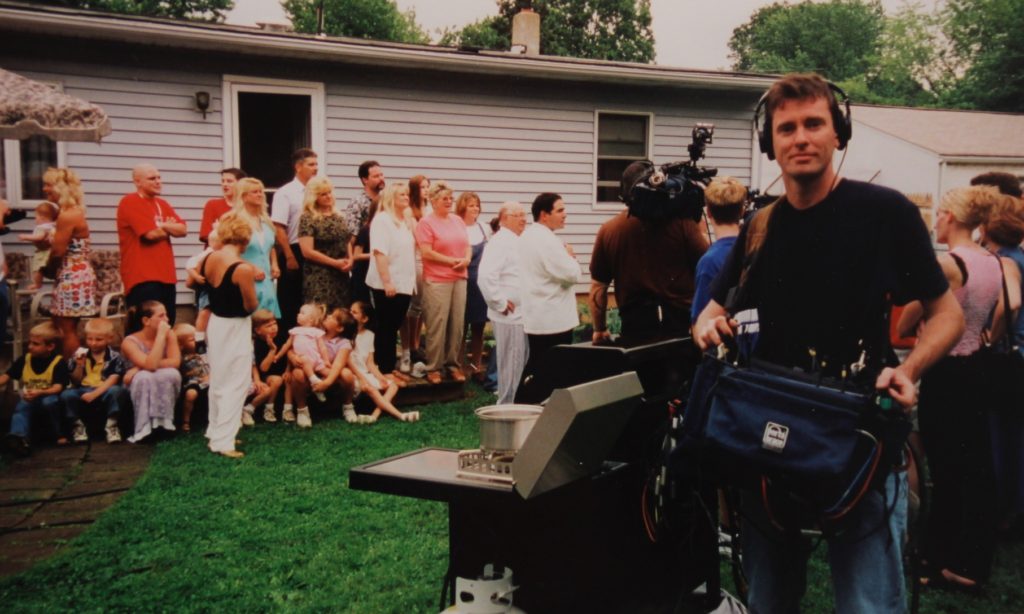 Portably mixing live Good Morning America field segments with Emeril Lagasse
Cross-Canadian bus tour for Good Morning America back in 1996
Working camera on this one – Dick Clark's riser camera!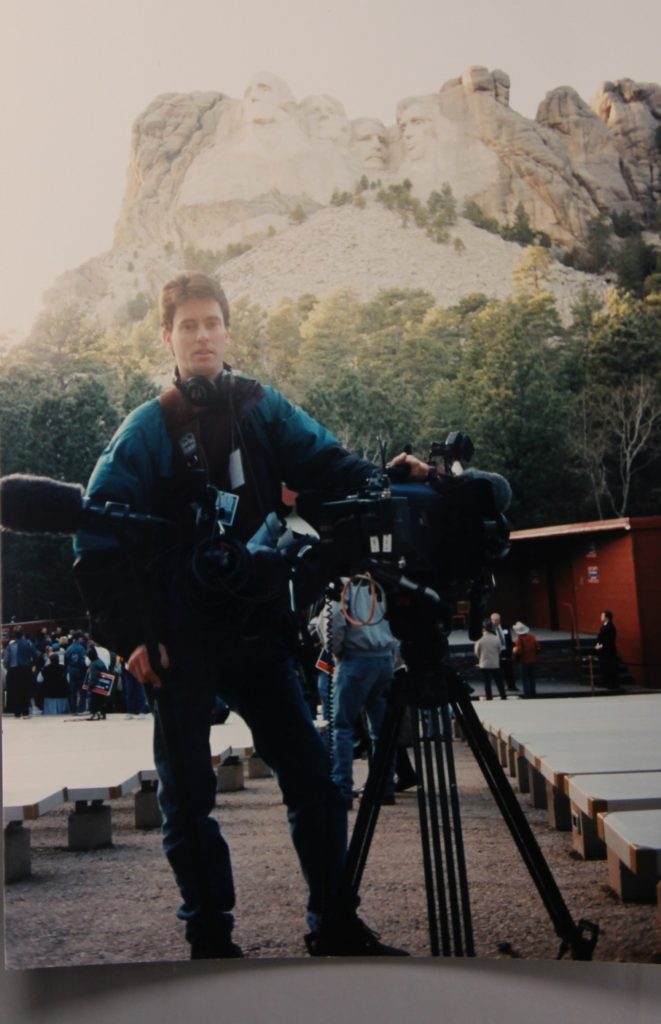 On a campaign trail, and if I recall correctly this day started in New Hampshire.
Yes, that's Mt. Rushmore.
A. Long. Day.
CRED… Like in credentials…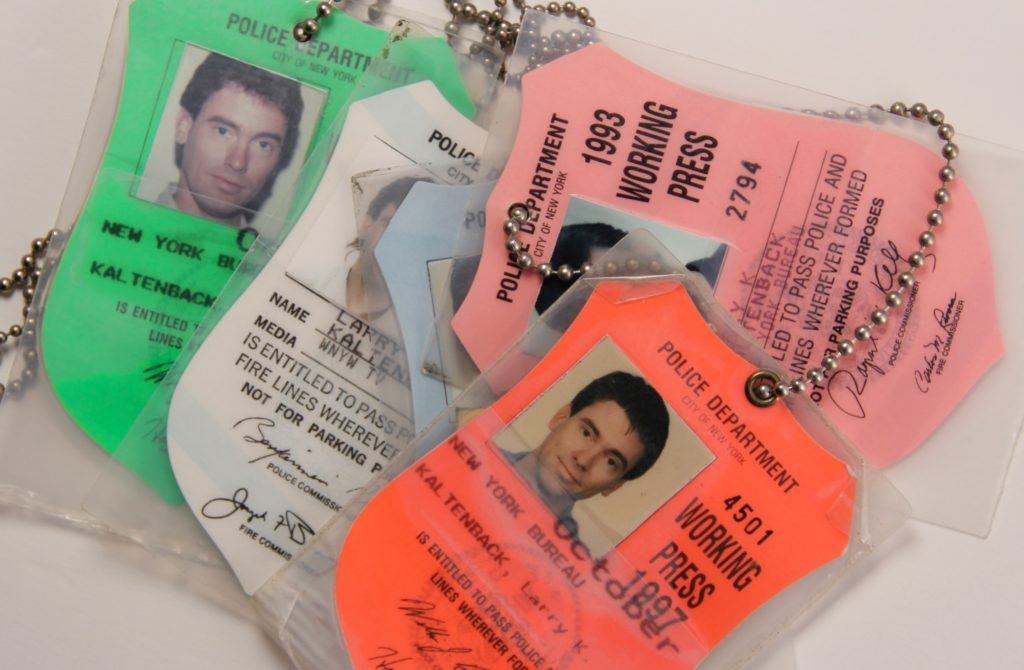 THAT'S A WRAP!
Call Larry Kaltenbach (551) 804-9790